Eagle Aviation
®
Columbia Metropolitan Airport (KCAE)
Your One-Stop-Shop For All Your Aviation Needs
Aircraft Charter
Services:
CITATION V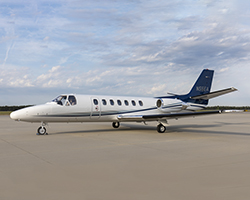 Eagle Aviation operates a Cessna Citation V - one of the most sought after charter aircraft in the industry. With the ability to carry up to nine passengers 1150 statue miles, the Citation V is a perfect fit for your travel needs. Our executive charter service is available 24 hours a day, everyday. We arrange every aspect of the flight, from the details of any personal requirements to coordinating the transportation to and from the aircraft. No detail is overlooked. Our flight coordinators track the flight from start to finish assuring that the coordination of any arrival or departure needs are met.
---
Privacy and Comfort:
Your schedule, your preferences: You choose the flight time, the departure airport, arrival airport…even the catering menu. Fly in style, your style.
Relax: Forget those crowded airports and long security lines. Start your trip relaxed, knowing you can board your aircraft quickly and easily, with the crew taking care of your luggage and security procedures.
Arrive ready and refreshed: Use the quiet, secure environment of the cabin to rest, enjoy a meal, or prepare for an upcoming meeting.
Get home sooner: Your charter aircraft travels on your schedule, giving you the option of combining trips – even to multiple cities – to lessen your time away from home.
Stay Connected While Flying: This aircraft features AirText+ allowing you the ability to text while traveling to your destination. Stay in touch through AirText+.
---
Safety and Pilot Training:
Our commitment to Safety is our number one priority. You can fly in total comfort and confidence with Eagle Aviation. Our pilots exceed all the training standards set forth by the FAA. We require a minimum of 2000 flight hours for first officers and 3500 flight hours for captains. In addition, all captains receive advanced simulator training once a year at industry leaders, FlightSafety International or SimuFlite.
Contact:
Eagle Aviation has the right aircraft to fit your mission. For an immediate quote, please contact:
Doug Thomas
Charter Manager
dthomas@eagle-aviation.com
803.822.5577
© www.eagle-aviation.com
↑