Eagle Aviation
®
Columbia Metropolitan Airport (KCAE)
Your One-Stop-Shop For All Your Aviation Needs
2013 CITATION SOVEREIGN | 680-0348 | N81EA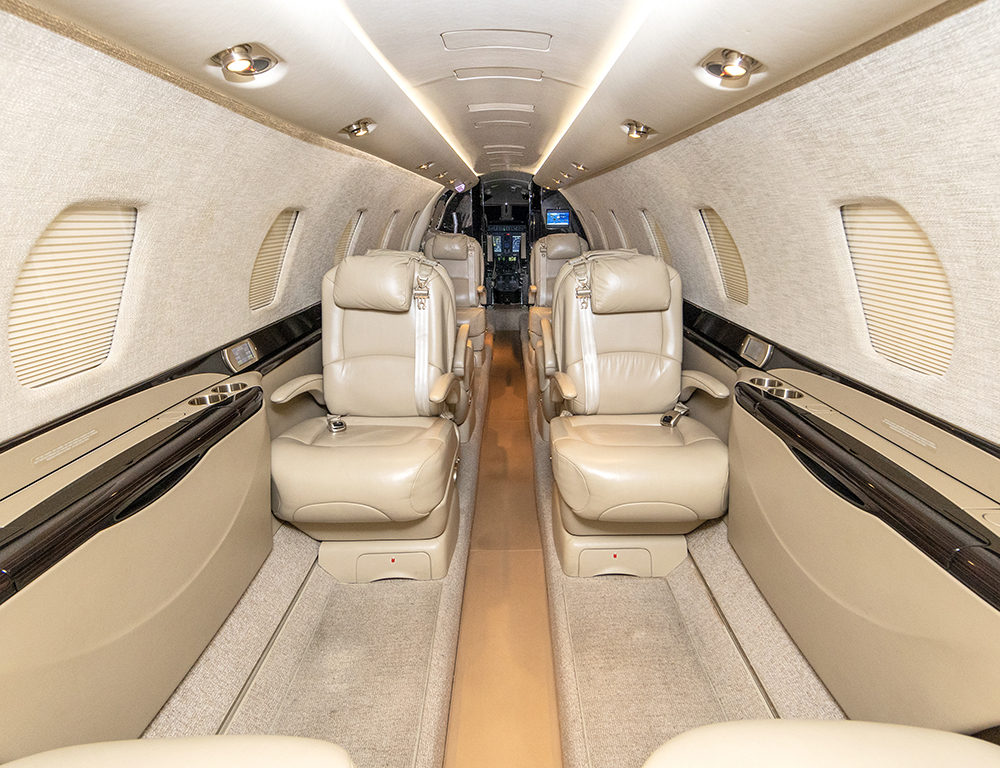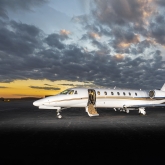 HIGHLIGHTS
ADS-B Out
Gogo Biz WiFi ATG-4000
RVSM Compliant
MSPS Compliant
MSG-3
WAAS / LPV
AIRFRAME
1,750 Hours Total Time Airframe
1,123 Total Landings
ENGINES
Pratt & Whitney 306C on PowerAdvantage+
LEFT
Serial Number: PCE-CG0684
1,750 Hours Total Time Since New
1,123 Total Cycles
RIGHT
Serial Number: PCE-CG07714
1,750 Hours Total Time Since New
1,123 Total Cycles
APU
Honeywell RE 100 on AuxAdvantage
Serial Number: P-554
788 Hours Total Time Since New
1,174 Total Cycles
EXTERIOR
Overall Matterhorn White Base with Light Gold, Dark Gold, and Blue Accents.
INTERIOR
ORIGINAL INTERIOR IN CREAMS, TANS, AND BEIGES
FLIGHT DECK
Cockpit Assist Handle
Monorail Sunvisors
Sheepskin Covered Crew Seats
LH/RH Two Book Navigation Chart Cases (RH has 110 VAC Outlet)
Flight Deck Sliding Door
CABIN AREA
8-Passenger Double Club Seating
RH Forward Galley with Extended Storage Cabinet
LH Forward Storage Closet
Seats feature Custom Adjustable Headrests and Footrests
4 Executive Tables
Indirect Lighting in the Continuous Dropped Aisle
Up to four individual 110 VAC Outlets
Aft Lavatory with Externally Serviceable, Flushing, Non-Belted Toilet, an Adjacent Sink with Running Temperature Controlled Water, and an additional 110 VAC Outlet
Large Centerline Closet
Pleated Electric Window Shades
Isle Carpet Runner
AVIONICS
Modular Avionics Units: Four MAUSs
LCD Units: Four 8'x10" Flat Panel LCD Units
Multi-Function Control: Dual Multi-Function Control Display Units w/Integrated FMS & GPS
Flight Guidance Control Panel: GP-400 Flight Guidance Control Panel
Air Data Modules: Dual Honeywell AZ-200
ADF Radio Cabinets: Dual Honeywell MRC-844 Radio Cabinets
AHARS: Dual Rockwell Collins AHC-3000
Angle of Attack: Dual Angle of Attack Sensors
High Frequency: Dual Honeywell w/SELCAL
Flight Phone: Aircell AXXESS II Telephone
Emergency Locator Transmitter; Kannad 406AF ELT
Transponders: Dual Honeywell XS-857A
Traffic Collision Avoidance System: TCAS II with change 7.1
EGPWS: Yes
Distance Measuring Equipment: Dual Honeywell DME-855
Automatic Direction Finder: Honeywell DF-855
Secondary Flight Display: Goodrich GH-3000
Display Controller: Dual Honeywell DC-840
Radar: Honeywell Primus 880 Weather Radar
Cockpit Voice Recorder: FA-2100
Flight Data Recorder: Provisions
ADDITIONAL EQUIPMENT & OPTIONS
Extended Range Oxygen
GoGo Biz WiFi – ATG 4000
Electronic Charts
N1 Electronic Engine Control
Thrust Reversers
Horizontal Situation Indicator Airshow 410
Whelen Engineering STC/LED Taxi Lights
MAINTENANCE & INSPECTIONS
On CESCOM
Always Textron Maintained
No Damage / Corrosion History
All Inspections due through April 2021 have been completed by Textron Greensboro: Docs 1, 3, 6 (48-month), 7, 9, 10, 11, 12, 14, 15, 16 (96-month), 18, LR-RH Engine Oil Change, and Pitot System Check.
Highlights
1750 TTA&E, Two US Owners Since New, No Damage/Corrosion History, Textron Maintenance, Like-New Original P&I, WiFi, ADS-B, WAAS/LPV. All Inspections due through April 2021 completed by Textron-Greensboro.
Contact
Download Aircraft Spec
Videos
Send to friend
Sign Up for Updates
© www.eagle-aviation.com
↑