Your one-stop-shop for all your
business and personal aviation needs
2001 CITATION CJ1 | 525-0448 | N655CK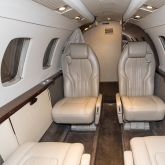 AIRFRAME
4,016 Hours Total Time Airframe
3,362 Total Landings
ENGINES
TAP Elite
Williams FJ44-1A
5,000 Hour TBO
LEFT
Serial Number: 1907
3,869 Hours Total Time Since New
3,223 Cycles Since New
RIGHT
Serial Number: 1910
3,897 Hours Total Time Since New
3,253 Cycles Since New
EXTERIOR
2013 Exterior by Cessna-Wichita
Base: White
Accents: Gray & Dark Green
INTERIOR
New Cessna Custom designed seats, new carpet and sidewalls by Cessna-Wichita (2013).
Seating / Layout: 2+6 Standard Club Configuration with a Forward Side-Facing Seat (across from entry door) and an aft Belted Potty.
Materials / Colors: Beige Leather Seats, Cream Headliner, Brown Carpet, High-Gloss Wood Veneer, and Satin Chrome Hardware.
Additional Amenities: Dual Executive Writing Tables (with Beige Inserts), a Forward Left-Hand Deluxe Refreshment Center, Sheepskin Crew Seats, and USB Ports in Cabin & Cockpit.
AVIONICS
Standard Collins Pro Line 21 Avionics Package
EFIS / FLIGHT DIRECTOR: Collins Pro Line 21 IFCS (3-Tube)
AUTOPILOT: Collins APS-85
NAVS / COMMS / GPS: Garmin 750/650 w/Dual WAAS GPS and LPV (Cessna STC)
FMS: Universal UNS-1K w/GPS
DME: King KN-63
TRANSPONDERS: Dual Garmin GTX-33D
EGPWS: Honeywell MK V
TAWS: Honeywell EGPWS 8000
TCAS / STORMSCOPE: BFGoodrich Skywatch WX-1000E
RADAR: Collins RTA-800 Color
RADIOALTIMETERS: Dual Collins ALT-55B
AHRS: Collins AHC-3000
ADC: Dual Collins ADC-3000
ELT: Artex C406-2
ADDITIONAL SYSTEMS: Optional EFIS Display, Electronic Jepp Charts, XM Weather, Optional Safe Flight N1 Computer, Dual Glideslope, Marker Beacon Receiver
ADDITIONAL EQUIPMENT & OPTIONS
RVSM Compliant
Tailcone Baggage Extension for Skis
Rosen Cockpit Visors
Lead Acid Battery
EROS O2 Masks & Smoke Goggles
50 Cu Ft Oxygen Bottle
Garmin GDL-69A XM Weather -Traffic
CVR Provisions
HF Provisions
Locking Fuel Caps
MAINTENANCE, INSPECTIONS & CERTIFICATIONS
ProParts
CESCOM Maintenance Tracking
Will be delivered with Cessna ADS-B Out
© www.eagle-aviation.com
↑