Your one-stop-shop for all your
business and personal aviation needs
1999 CITATIONJET | 525-0326 | N616PR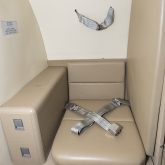 ENGINES
TAP Preferred
Williams FJ44-1A
5,000 Hour TBO
LEFT
Serial Number: 1665
6,034 Hours Total Time Since New
5,016 Cycles Since New
Check 6 due at 7,746 Hours Total Time
RIGHT
Serial Number: 1666
6,092 Hours Total Time Since New
5,013 Cycles Since New
Check 6 due at 7,804 Hours Total Time
EXTERIOR
2016 Exterior by Duncan Aviation
Base: White
Accents: Burgundy, Gold & Blue
INTERIOR
Seating / Layout: 2+5 Standard Club Configuration with a Forward Side-Facing Seat (across from entry door).
Materials / Colors: Beige Leather Seats, Cream Headliner and Beige Carpet.
Additional Amenities: Aft Left-Hand Belted Flushing Potty Seat, Dual Executive Writing Tables (with Beige Inserts), a Forward Left-Hand Deluxe Refreshment Center and Sheepskin Crew Seats.
AVIONICS
EFIS: Honeywell 2-Tube
FLIGHT DIRECTOR / AUTOPILOT: Honeywell SPZ-5000 IFCS
COMMS / NAVS: Dual Garmin GTN-750
GPS: Dual Garmin GTN-750 IFR
DME: King KN-63
TRANSPONDERS: Dual Garmin GTX-33ES
EGPWS: Honeywell
TCAS: Garmin GDL-88 (ADS-B IN/Out)
RADAR: Bendix RDR 2000 Color
MARKER BEACON: Bendix/King KR-21
RADAR ALTIMETER: King KRA-10
SATCOM: AirCell 3100
ADDITIONAL SYSTEMS: Ram Air Temperature Indicator, Honeywell EADI Electronic Flight Instrument System, ELT, Dual Avtech 5635-1-1 Audio Controls, Standby Altitude Gyro, SafeFlight Angle of Attack Indicators, Davtron M877 Clock, Nexrad Weather, Charts.
ADDITIONAL EQUIPMENT & OPTIONS
RVSM
Freon Air Conditioning
Anti-Skid Brakes
Woodward Engine Sync
JET Battery Pack
Direct Cabin Lighting
Voice Annunciator Warning Light
MAINTENANCE, INSPECTIONS & CERTIFICATIONS
CESCOM Maintenance Tracking
FAR PART 91 Certification
Docs 11 complied with @ 6,082 Hours Total Time by Classic Jet Center/LNN (3/16)
Docs 1 & 13 complied with @ 5,981 Hours Total Time by Classic Jet Center/LNN (11/15)
WEIGHTS (lbs)
Empty Weight: 6,040 lbs
Ramp Weight: 10,500 lbs
Max Takeoff Weight: 10,400 lbs
Useful Load: 4,460 lbs
Highlights
Recent Paint by Duncan Aviation, Garmin 750s, TAP Preferred, Always US, Low Ownership History, a Ready-To-Go CJ based in our Hangar at KCAE
Contact
Download Aircraft Spec
© www.eagle-aviation.com
↑