Eagle Aviation
®
Columbia Metropolitan Airport (KCAE)
Your One-Stop-Shop For All Your Aviation Needs
2016 EMBRAER LEGACY 450 | 55010006 | C-GXSS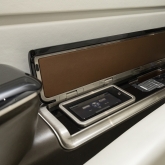 HIGHLIGHTS
ADS-B Compliant
Engines & APU on MSP
One Owner
Low Time
Well Equipped
AIRFRAME
410 Hours Total Time Airframe
250 Total Landings
ENGINES
Honeywell HTF7500E on MSP
LEFT
Serial Number: P131201
410 Hours Total Time Since New
250 Total Cycles
RIGHT
Serial Number: P131200
410 Hours Total Time Since New
250 Total Cycles
APU
Honeywell GTCP 36-150 on MSP
480 Hours Total Time Since New ž 640 Total Cycles
EXTERIOR
Overall Snow White with Manhattan Gray, Catalina Blue, Solid Black and Candy Red Accents.
INTERIOR
SEATING / LAYOUT: 2+9 Club Configuration including a Forward Two-Place Divan, Two Aft Forward-Facing Seats and an Aft Belted Potty.
MATERIALS / COLORS: Passenger Seats are covered in Light & Medium Beige Leather and Pilot Seats are covered in Dove Sheepskin, Lower Sidewalls are a Rich Brown Leather, Carpet is a Custom Patten in Beige, Cream and Gray tones, Cabinetry is finished in a High-Gloss Black.
ADDITIONAL AMENITIES: Two Executive Writing Tables (in club area), Two Slimline Tables (at aft forward-facing seats), Cockpit Divider with Pocket Door, Blu-Ray Player, Monitors for Individual Seat Viewing, Iridium Satellite Phone, Left-Hand Galley (with Nespresso Coffee Maker, Hot Jug and Storage), and an Aft Lavatory Area with Belted Toilet /Sink and Storage Closet (Cabin/Lavatory Divider with Pocket Door).
AVIONICS
ADF: Collins NAV-4000
AUDIO PANEL: Collins ACP-6000
AUTOPILOT: Collins FCP-5070
COMMS RADIOS: Triple Collins VHF-4000 8.33 spacing
CVR: L3 Communication FA-5000
DME: Collins DME-4000
EMERGENCY LOCATOR TRANSMITTER: Kannad 406 AF
FLIGHT DATA RECORDER: L3 Communications FA5000
FLIGHT DIRECTOR: Collins FCP-5070
FLIGHT MANAGEMENT SYSTEM: Collins CCM-5110
GPS: Dual Collins GPS-4000S
HF COMM
NAV RADIOS: Dual Collins NAV-4500 / NAV-4000
RADIO ALTIMETERCollins ALT-4000
RADIO INTERFACE UNIT: Dual Collins
SYNTHETIC VISION: Collins SVM-6110 Synthetic Vision Module
TAWS: Collins EGPWS TPM-6000
TCAS: Collins TSS-4100
TRANSPONDERS: Collins TDR-94D Mode S, ADS-B
WEATHER RADAR: Collins RTA-4118
ADDITIONAL EQUIPMENT & OPTIONS
13 Person Life Raft
Nicad Battery
Lead Acid Battery Back-Up
115 Cu Ft O2 System
Base Station Iridium Satellite Phone
MAINTENANCE, INSPECTIONS & WEIGHT
CAMP Maintenance Tracking
Empty Weight: 22,884.5 LBS (as of March 15, 2019)
© www.eagle-aviation.com
↑