Eagle Aviation, Inc.
Columbia Metropolitan Airport (KCAE)
YOUR ONE-STOP-SHOP FOR ALL YOUR BUSINESS AND PERSONAL AVIATION NEEDS
2000 LEARJET 31A | 31A-204 | N204RT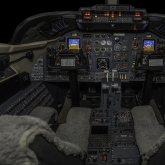 HIGHLIGHTS
Engines on Honeywell MSP
One US Corporate Owner Since New
No Known Damage History
AIRFRAME
5,350 Hours Total Time Airframe
5,550 Total Landings
ENGINES
Honeywell TFE 731-2-3B
Honeywell MSP
LEFT
Serial Number: P99534
1,086 Hours SCZI
5,325 Hours Total Time Since New
5,525 Total Cycles
MPI due @ 5,637.9 Hours Total Time
RIGHT
Serial Number: P99536
1,086 Hours SCZI
5,325 Hours Total Time Since New
5,525 Total Cycles
MPI due @ 5,637.9 Hours Total Time
EXTERIOR
NEW MAY 2018 BY STEVENS AVIATION
Base: Overall Matterhorn White
INTERIOR
Seating / Layout: 2+8 Center Club Configuration with an Aft Three-Place Divan and a Forward Side-Facing Potty Seat (opposite entry).
Materials / Colors: Cabin Seats and Armrest Ledge in Beige Leather with Woodwork completed in High Gloss Burlwood Veneer.
Additional Amenities: Dual Executive Writing Tables in Club Area, Forward Left-Hand Full Refreshment Center (including ice tray, wine rack and storage drawers), and a Forward Right-Hand Storage Cabinet. Aft Baggage Area located behind Aft Divan.
AVIONICS
HONEYWELL 5-TUBE EFIS 50
FLIGHT DIRECTOR / AUTOPILOT: Dual Honeywell
FMS: Universal UNS-1C
COMMS: Dual Collins
NAVS: Dual Collins
TRANSPONDERS: Dual Honeywell MST-67A Mode S
RADAR: Honeywell 660
RADAR ALTIMETER: Honeywell
EGPWS: Honeywell Mark VIII
TCAS: Honeywell TCAS II CAS 67A
DME: Honeywell
CVR: Collins CVR-30A
ELT: Artex C406-2
Heads-Up Technologies XM Receiver
Provisions for Honeywell KHF-950 HF w/SELCAL
ADDITIONAL EQUIPMENT & OPTIONS
Cargo Door
Dee Howard Thrust Reversers TR-4000
Raisbeck Aft Fuselage Storage Locker
Aircell ST3100 Iridium Satellite Telephone
Freon Air Conditioning
Allied Signal Digital Electronic Engine Controls (DEEC)
Tail Logo Lights
B&D Cabin Display
40 Cubic Foot Oxygen System
Cabin Briefing Computer
MAINTENANCE & INSPECTIONS
Recent A&B Inspections by Stevens Aviation
New Pilot's & Copilot's Windshields (3/18)
WEIGHTS
Empty Weight: 10,927.14 lbs
Highlights
One US Corporate Owner Since New, New Paint, Good Interior, Engines on MSP, TCAS II, 2 New Windshields, Recent A&B Inspection by Stevens Aviation.
Contact
Download Aircraft Spec
© www.eagle-aviation.com
↑