Your one-stop-shop for all your
business and personal aviation needs
1998 CITATIONJET | 525-0263 | N263FB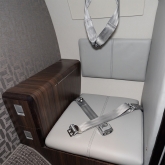 AIRFRAME
2,590 Hours Total Time Airframe
1,885 Total Landings
No Known Damage History
ENGINES
Williams FJ44-1A
On TAP Blue (with the deferred option)
LEFT
Serial Number: 1535
2,590 Hours Total Time Since New
RIGHT
Serial Number: 1534
2,590 Hours Total Time Since New
EXTERIOR
2014 BY WEST STAR
Upper Base: Matterhorn White
Lower Base: Black
Stripes: Gold and Red
INTERIOR
NEW 2017 BY EAGLE AVIATION
Seating / Layout: 2+6 Standard Club Configuration with a Forward Side-Facing Seat and an Aft Belted Non-Flushing Potty Seat.
Materials / Colors: Ashe Leather Seats with Roma Anthracite Lower Sidepanels and Custom Red Rock Dark Gray Carpet. Tapis Ostrich Euroleather Upper Sidepanels and Headliner, Laminart Sonoran Ironwood Cabinetry, and Brushed Nickel Hardware.
Additional Amenities: Dual Executive Writing Tables in Club Area, Forward Left-Hand Full Refreshment Center, Pilot Chart Cases, Aft Baggage Storage (across from Potty Seat).
Forward and Aft External Compartments refurbished with New Grosspoint and New Paint on the Doors.
AVIONICS
FLIGHT DIRECTOR / AUTOPILOT: Honeywell SPZ-5000 2-Tube EFIS
FMS: Universal UNS-1LW
MFD: Avidyne EX-5000
COMMS: Dual Honeywell KY-196A
NAVS: Dual Honeywell KN-53
TAWS / RMI: Sandel ST-3400
TRANSPONDERS: Dual Bendix / King KT-71 Mode S
RADAR: Bendix / King RDR 2000
WAAS GPS / XM ANTENNA: Universal
AIR DATA COMPUTER: Shadin ADC-200
STORMSCOPE: WX-950 L-3 Communications
TCAD: Ryan 9900 BX
DME: Bendix / King KN-63
ADF: Bendix / King KR-87
ELT: Artex C-406-2
ADDITIONAL EQUIPMENT & OPTIONS
Electronic Charts
Freon Air Conditioning
Indirect Lighting
RVSM Certified
Precise Pulselite Lighting
Monorail Sunvisor
Large 50 Cubic Foot Oxygen System
MAINTENANCE & INSPECTIONS
Cescom Maintenance System
Doc 10 c/w by Textron Aviation–Greensboro (3/17)
SB 525-36-04 (Precooler Improvement) c/w by Textron Aviation–Greensboro (3/17)
WEIGHTS
Empty Weight: 6,560.91 lbs
Useful Load: 4,139.09 lbs
MGTOW: 10,600 lbs
Max Ramp Weight: 10,700 lbs
Highlights
Only 2590 TT, TAP Blue (Deferred Option), Stunning 2017 Interior by Eagle Aviation, 2014 Paint by West Star, Doc 10 Inspection & Precoolers by Cessna Greensboro (4/17), Excellent Maintenance History, No Known Damage History.
Contact
Download Aircraft Spec
© www.eagle-aviation.com
↑